RecommenderX is delighted to announce the launch of the second version of our Advise platform. This version represents a huge step forward in our development, bringing together our world-class dashboards and data visualizations with our decision engine to deliver in-place predictive analytics.
Users can harness the power of predictive analytics through our integrated Forecasting Engine to understand the impact of recent performance and historical seasonal variation, in order to plan effectively for the coming weeks and months;
Our Anomaly Detection Engine is always scouring the data looking for outliers that differ from expectations so that users can be proactively alerted of where to start their analysis;
Furthermore, through the application of Explainable AI, the relationship between anomalies is determined and a human-readable explanation of the contributing factors is provided for every anomaly, helping users to find the root cause;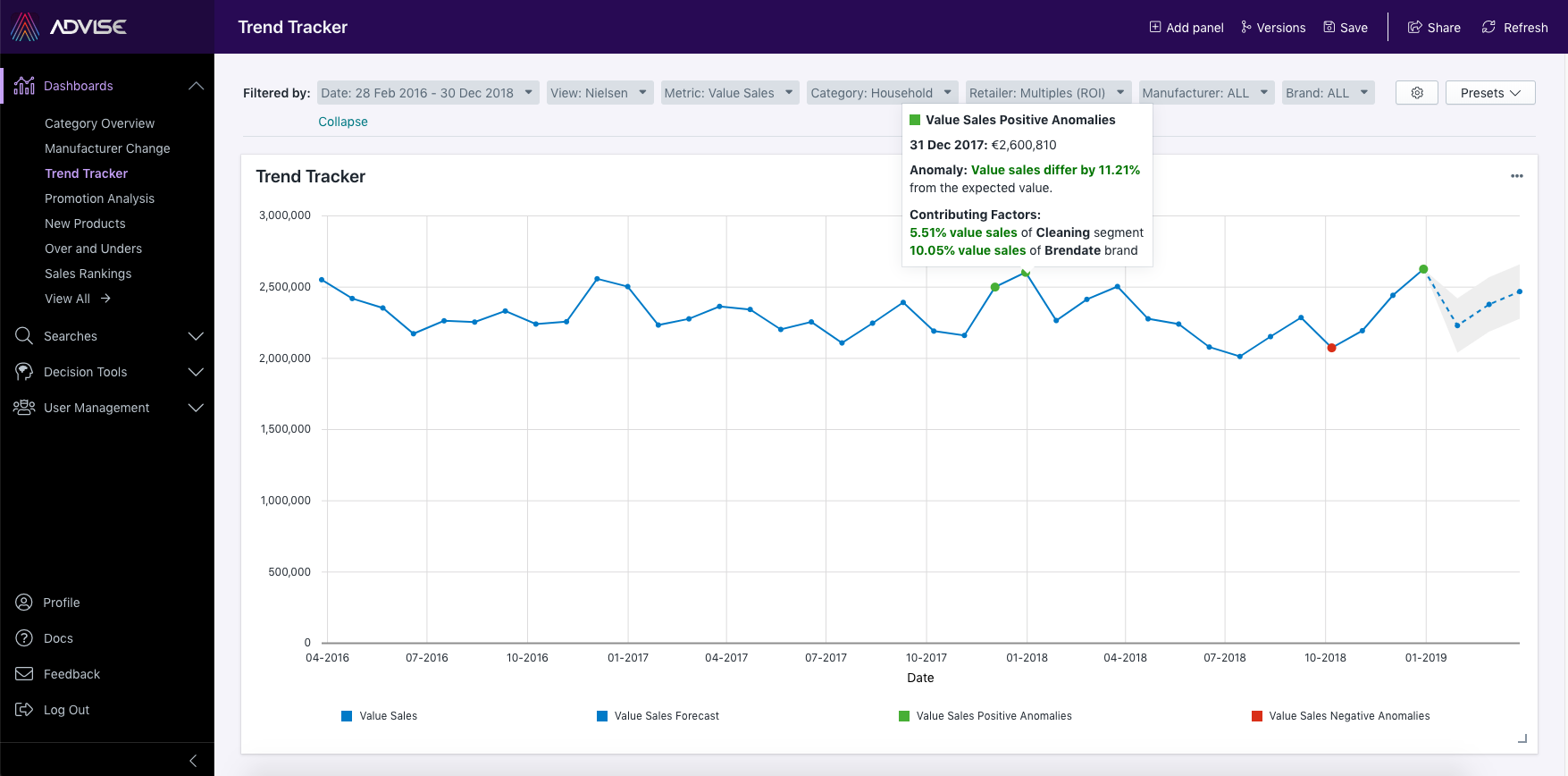 Our full framework for Decision Support Tools is now available in Advise 2.0, allowing models to be learned from data, put into production, and scored in real-time to deliver bespoke decision tools for our customers. Whether you are looking at categorization, segmentation, recommendation, or next best action, the Advise platform has got you covered;
Dashboards can now be created, configured and maintained in a tenth of the time and our Visualization Plugin Architecture makes it easier than ever to add new types of visualizations to meet customer needs;
There is a myriad of other improvements to the Advise platform including better security, improved performance, and enhanced user experience.
Why not schedule a demo today by dropping us an email at sales@recommenderx.com. Also, check out the application of Advise in the Consumer Package Goods (CPG) / Fast Moving Consumer Goods (FMCG) vertical in the video below: