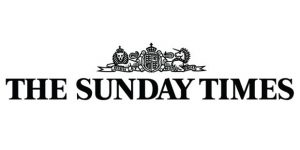 In this weeks edition of The Sunday Times, in the Business & Money section (19th July 2020), Sandra O'Connell writes about the importance of data and the utilisation of data by companies to inform their strategy and lead them to success.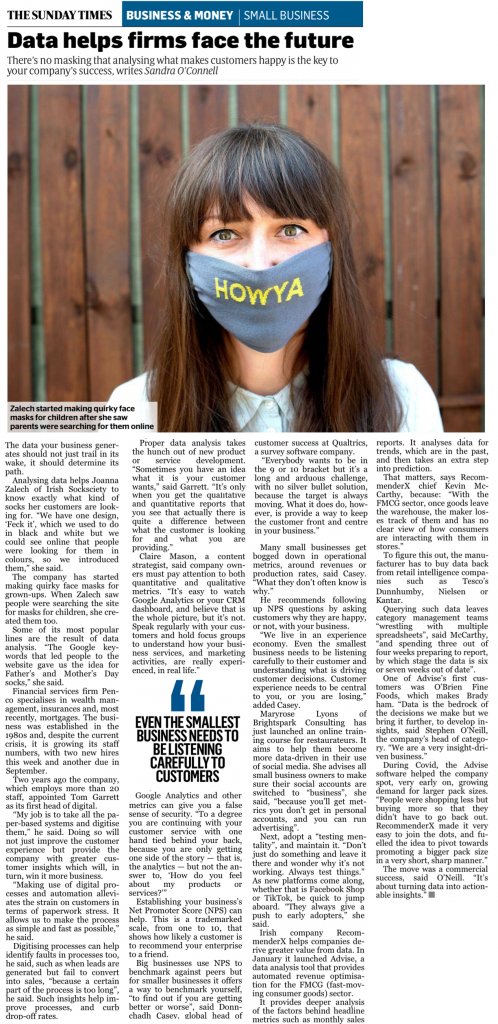 Sandra writes:
"
Irish company RecommenderX helps companies derive greater value from data. In January it launched Advise, a data analysis tool that provides automated revenue optimisation for the FMCG (fast-moving consumer goods) sector.

It provides deeper analysis of the factors behind headline metrics such as monthly sales reports. It analyses data for trends, which are in the past, and then takes an extra step into prediction.

That matters, says RecommenderX chief Kevin McCarthy, because: "With the FMCG sector, once goods leave the warehouse, the maker loses track of them and has no clear view of how consumers are interacting with them in stores."

To figure this out, the manufacturer has to buy data back from retail intelligence companies such as Tesco's Dunnhumby, Nielsen or Kantar. Querying such data leaves category management teams "wrestling with multiple spreadsheets", said McCarthy, "and spending three out of four weeks preparing to report, by which stage the data is six or seven weeks out of date".

One of Advise's first customers was O'Brien Fine Foods, which makes Brady ham. "Data is the bedrock of the decisions we make but we bring it further, to develop insights, said Stephen O'Neill, the company's head of category. "We are a very insight-driven business."

During Covid, the Advise software helped the company spot, very early on, growing demand for larger pack sizes. "People were shopping less but buying more so that they didn't have to go back out. RecommenderX made it very easy to join the dots, and fuelled the idea to pivot towards promoting a bigger pack size In a very short, sharp manner."

The move was a commercial success, said O'Neill. "It's about turning data into actionable insights."
"
We are delighted to appear in such a prestigious publication as The Sunday Times, and it's great that they are highlighting the need for businesses to be more data-driven in their decision-making. We are also delighted that Advise is helping our customers to better understand and use their data, presenting them with insights that they can use to drive commercial success.
Advise could help you better understand your data, and we can get you up and running with an automated revenue optimisation solution for use across your business in no time. At the moment, we are offering free proof-of-concept deployments of Advise, fully configured and deployed, for qualified companies.
Contact us today to find out more.