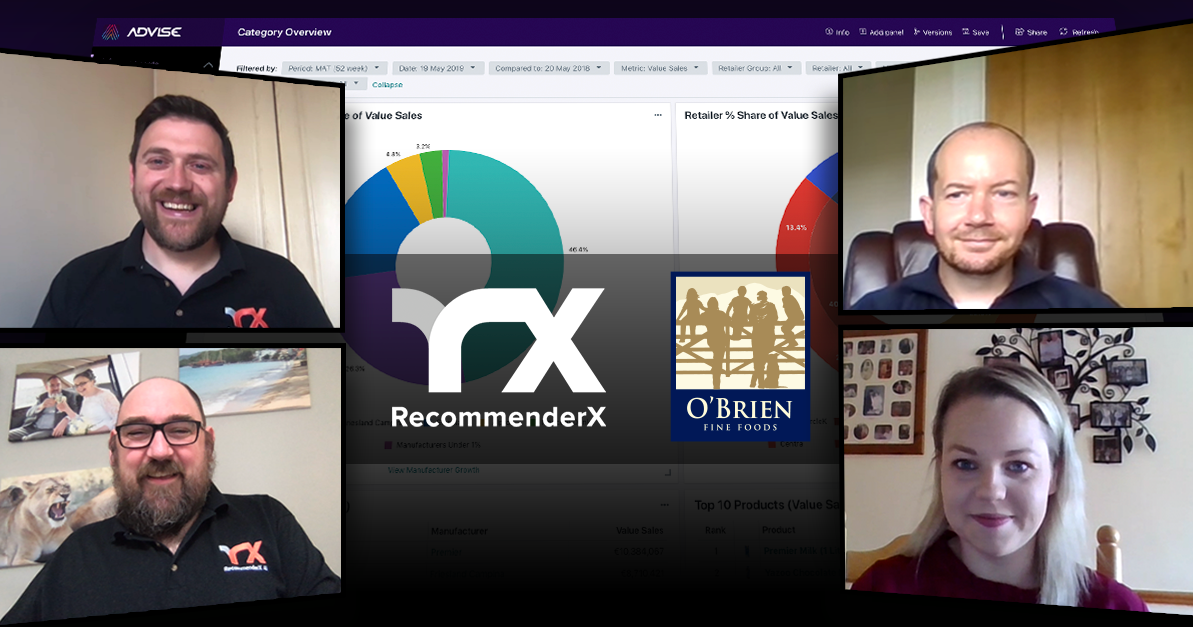 The world has utterly changed in the last few weeks due to Covid-19 and as a result, supply chains, technology, retail and customer engagement have shifted and will evolve further as we begin to emerge from the global lock down.
Some positive news for RecommenderX in this difficult environment is that O'Brien Fine Foods, a family-run Chilled Fast Moving Consumer Goods business – employing more than 500 people and supplying a range of branded and own-label meat products to the Irish market – is growing and has initiated a digital transformation and is developing a revenue growth management platform.
O'Brien Fine Foods supplies many well-known products to all major multiples, discounters and convenience groups in Ireland (BWG, Dunnes Stores, Tesco, Musgrave group) and recently secured a deal with Lidl to supply over 7,400 Lidl stores throughout Europe.
Stephen O'Neill, Head of Category and Insight at O'Brien Fine Foods, is leading the digital agenda for O'Brien Fine Foods. He commented;
"We had been searching for a solution to integrate our various sources of external data to help streamline our insights process to enable more informed and quicker business decisions. The Dublin based predictive analytics company RecommenderX presented to us a unique solution, the only one of its type in the global market, that not only integrates the data but provides automated insightful visualisations and predictive strategies that will hugely advance our market intelligence capabilities. The Advise platform gives us one view of our data, unifying the information and improving efficiencies which means we will also realise costs savings as less time is allocated to data mining across the departments. Its helping us stay informed while many of the office team are working remotely during the Covid-19 crisis."
The RecommenderX Advise platform is targeted at mid-tier FMCG/CPG brand companies, who most need the deep data analysis and predictive forecasting solutions to compete in the market, which tier one brand leaders have whole departments devoted to or can afford to build themselves.
The RecommenderX Advise platform empowers users to be data-driven and to make better decisions, faster through the use of predictive analytics for performance forecasting and anomaly detection, as well as recommendations on product promotion and new product launch strategies.
The future of CPG is here.